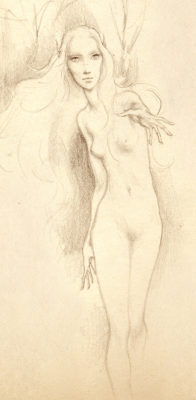 A very old drawing,  done back in the days when acid-free paper wasn't that common.  That particular sketchbook travelled with me across the ocean and back some years later, then it was left on a shelf for years, and it collected allot of dust.
A few days ago, I found it again, and while browsing through its yellowed papers, I had a feeling
that could be described as travelling back in time… to the days before
the war of the 90's, carefree days of high school…I was reading allot of Fantasy back then, so I filled out a couple of sketchbooks with ideas and doodles. Back then, this was just another sketch that turned out good( in my opinion).  But now, when I look at her, I think of her as a Rusalka.
This drawing reminds me of the days I thought everything was possible… years later, I realised that's not exactly true…but the magic remains the same 🙂
Happy Winter Solstice, Merry Xmas, Happy New Year and Sretan Božic!!!
"In Slavic mythology, a rusalka (plural:rusalki) was a female ghost, water nymph, succubus or mermaid-like demon that dwelled in a waterway."( Wikipedia).