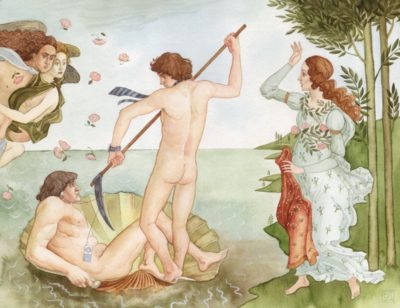 This illustration takes a look at the mythological struggle between Ouranos and Cronus…and possibly what happened right before the legendary birth of Venus, goddess of love. For this purpose, I played around with The Birth of Venus, painted by Boticelli.  The original story, dating back to Greek antiquity, tells us how Venus/Aphrodite emerged from the sea: "In ancient Greek myths, Cronus envied the power of his father, the ruler of the universe, Ouranos. Ouranos drew the enmity of Cronus' mother, Gaia, when he hid the gigantic youngest children of Gaia, the hundred-armed Hecatonchires and one-eyed Cyclopes, in Tartarus, so that they would not see the light. Gaia created a great adamant sickle and gathered together Cronus and his brothers to persuade them to kill Ouranos. Only Cronus was willing to do the deed, so Gaia gave him the sickle and placed him in ambush. When Ouranos met with Gaia, Cronus attacked him with the sickle by cutting off his genitals, castrating him and casting the severed member into the sea. From the blood (or, by a few accounts, semen) that spilled out from Ouranos and fell upon the earth, the Gigantes, Erinyes, and Meliae were produced. From the member that was cast into the sea, Aphrodite later emerged…"(Wikipedia)
The article behind this illustration is dealing with a theme from popular astrology, a struggle between two powerful planets, Uranus/Ouranos and Saturn/Cronus.  They are no longer regarded as goods, but the myth took a new a shape and has a different meaning today: it symbolizes the universal struggle between father and son, the old and the new, hence the tie and the iPod.  Something happened along the way, probably as a result of many influences and beliefs that clashed and merged through centuries, and the general knowledge nowadays is that  Saturn  is the "old", the "traditional", the "stale" in popular astrology, and planet Uranus came to stand for  "new" and "revolutionary".  Regardless of this, the theme remains eternal.  Birth of Venus seemed like a nice backdrop for a struggle that would've otherwise been illustrated as a young man punching the old man in the face 😉
I did this illustration a little while ago, but it never got published due to the unfortunate misunderstanding with a commissioning party.
…………………………………………….
Ova ilustracija je osvrt na mitološki sukob Urana i Kronosa, i moguće ono što se dogodilo trenutak pre legendarnog rođenja Venere, boginje ljubavi. U ovu svrhu poigrala sam se sa Rođenjem Venere koju je naslikao Botičeli. Originalna priča koja potiče iz grčke starine govori nam kako je Venera/Afrodita izronila iz mora:
"Heziod u svojoj Teogoniji govori da je Uran dolazio svake noći da bi spavao s Gejom, Majkom Zemljom, ali je mrzio djecu koju mu je rodila – Titane, Hekatonhire i Kiklope. On ih je zatvorio u Tartar što je Geji uzrokovalo veliku bol. Oblikovala je kremeni srp i zatražila svoje sinove da kastriraju njezina muža, a na to je pristao Kron, najmlađi Titan. Dok je Uran sašao nad Geju da bi spavao s njom, Kron je iz zasjede skočio na nj i kastrirao ga, bacivši njegove testise u more. Od prolivene krvi rođeni su Giganti, Erinije, Melije (nimfe stabla jasena) te Telhine (stanovnike otoka Roda). Od genitalija bačenih u more rođena je Afrodita…." (Wikipedia)
Članak koji stoji iza ove ilustracije bavi se temom iz popularne astrologije, tenzijom između dve moćne planete, Urana i Saturna. Oni se više ne smatraju bogovima, ali mit o njima je preuzeo novi oblik i danas ima drugačije značenje: simbolizuje univerzalnu borbu između oca i sina, starog i novog, pa otud kravata i iPod. Nešto se usput dogodilo, i verovatno kao rezultat mnogih uticaja i verovanja koji su se sudarali i prožimali kroz vekove, danas je Saturn u popularnoj astrologiji poznat kao "star", "tradicionalan"i "ustajao", a uz Uran stoje pojmovi kao što su "nov" i "revolucionaran". Bez obzira na to, tema ostaje večna. Rođenje Venere je delovalo kao prikladna pozadina za priču koja bi se inače mogla ilustrovati scenom u kojj mlad čovek nokautira starca 😉
Ovu ilustraciju sam uradila relativno skoro, ali nije bila objavljena zbog nesporazuma sa naručiocem.